ADFEST is delighted to unveil three more Jury President completing the ADFEST 2023 Jury Presidents line-up.
dentsuMB'S ALICE CHOU LEADS THE BRAND EXPERIENCE LOTUS & DIRECT LOTUS
Alice Chou, Chief Creative Officer, dentsuMB Taiwan, has accepted the invitation to be Jury President of Brand Experience Lotus and Direct Lotus for ADFEST 2023.
Chou, who has been described as a lion, a Sherpa, a boss who isn't bossy, and a prime number, led her agency to its first Cannes Lion and the first-ever Cannes Lions Grand Prix winner from an agency in Taiwan in 2021. That brand campaign, "In Love We Trust", for Sinyi Realty, a response to Taiwan's spiralling divorce rate, was also Taiwan's most shared commercial of 2020 and ranked as the most popular advertisement on Google in the year's second half.
Chou was named Outstanding Creative Person of the Year at the Taiwan Advertiser Association and creative leader in Women Leading Change Awards in 2017. The following year, she was selected in Campaign Asia's Women to Watch, as well as Adweek's Creative 100 in 2021.
She has won eight Grands Prix, at ADFEST, AD STARS, One Show China, Longxi Creative Awards, China 4A, China Great Wall, LIA China Creative Award, China Times International Awards and Taiwan 4A. This makes her the highest award-winner in Taiwan's advertising history and a valuable asset to dentsu, where she has spent most of her career. Chou joined dentsu Taiwan in 2009 as a group creative director and was promoted to executive creative director three years later. In April 2015, she was promoted again to chief creative officer, the position she holds now.
Alice has a clear idea of what she hopes to see in the jury room. "Brands are just like people," she says. "We know brands not only by what they say, but more by how we feel when we get along and interact with each other. Great brand experiences engage the senses, form emotional bonds and make the brand part of the customer's story."
Chou is a highly experienced awards judge, having participated in the juries of almost every major international and local advertising awards program, including Cannes Lions from 2018 to 2022. She has been a jury president three times, including Branded Content & Entertainment Jury President for both D&AD and LIA China.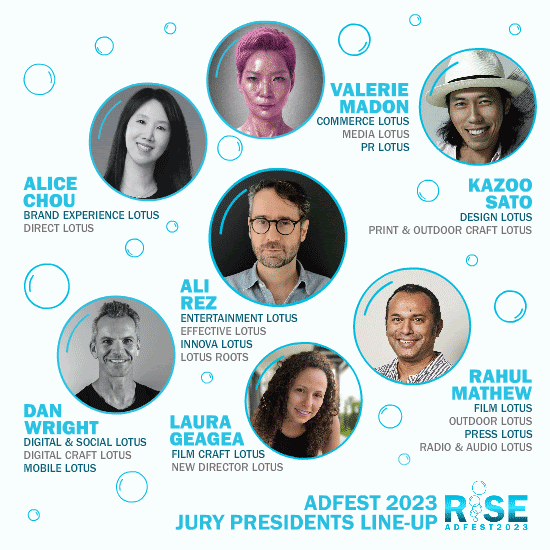 DAN WRIGHT OF DELOITTE DIGITAL PRESIDES OVER DIGITAL & SOCIAL LOTUS, DIGITAL CRAFT LOTUS, AND MOBILE LOTUS
Dan Wright, Chief Creative Officer, Deloitte Digital, Sydney & New Zealand will be Jury President of Digital & Social Lotus, Digital Craft Lotus and Mobile Lotus at ADFEST 2023.
Dan Wright has spent the past twenty-something years working combine creativity and technology and leading some of the world's most creative companies.
He has launched social media apps for dogs, sci-fi podcasts, shape-shifting houses and skateable pinball machines, written hard-cover books, released a Christmas album, designed smart rugby balls, created technology to help protect indigenous languages, and launched an empathetic software start-up for animal shelters – all of it to help some of the world's best-known brands become more valuable to real people.
"Creativity loves a conversation. How incredible to be part of the comeback story of in-person judging at ADFEST. What a privilege to be able to share ideas, and tackle big questions, and debate the details in real-life again. And to do it with the people powering what is hands-down the most creatively exciting region on Earth right now. I am counting down the days," he commented.
Dan has worked in New York, London, Melbourne, and Auckland with BBDO, DDB, AKQA and others. He spent ten years with the BBDO network, largely focused on helping to grow Colenso BBDO into one of the world's top commercial creativity companies. During his time with its creative leadership, Colenso ranked in the world's top 10 creative agencies seven times, hitting #1 twice. And in 2020, The Cannes Lions Festival of Creativity named Colenso its Agency of the Decade for the Pacific region.
Dan's passion for doing more with creativity brought him Deloitte Digital a year ago with the mission of blending creativity with epic scale and magic technology to create exponential change for organisations.
META'S VALERIE MADON HEADS COMMERCE LOTUS, MEDIA LOTUS AND PR LOTUS
Valerie's career of more than 20 years has covered brand-building and integrated creative solutions for major brands such as Zespri, Caltex, Hewlett-Packard, Procter & Gamble, Singapore Airlines, HSBC, Burger King, VISA, Singapore Tourism Board, Changi Airport, Central Provident Fund, Shell, GSK, Cycle & Carriage, Friesland Campina and many others. She is now Director of Creative Shop, SEA and emerging markets.
Valerie has made her mark at Cannes Lions, D&AD, One Show, London International, Effies, Golden Drum, Spikes Asia, ADFEST and the Webby's. Prior to joining Meta in November 2022, she was Chief Creative Officer at VMLY&R Asia, where she helped her team in India win the rare White Pencil and 2 Wood Pencils at D&AD 2022. She followed those accolades with a Grand Prix at Cannes Lions 2022, a Silver Innovation Lion and a Bronze Glass Lions. Her new job at Meta is a return to Facebook. She was Head of Creative Shop, Facebook Southeast Asia, earlier in her career. She has judged at Cannes Lions, One Show, New York Festival and Spikes Asia, and been Jury President for D&AD.
Besides painting, advertising and spending time with her family, Valerie's other creative refuge is cooking, which inspired her to start her own artisan ice cream shop, Licktionary, with her husband, another advertising veteran, Farrokh Madon.
ADFEST LOTUS AWARDS 2023:
ADFEST is accepting entries to the 2023 Lotus Awards for the ADFEST 2023 festival, which will be held under the theme, "RISE", at PEACH, Royal Cliff Hotels Group in Pattaya, Thailand Thursday 23rd March 23 to Saturday 25th March 2023.
There are 20 categories of Lotus Awards: Brand Experience Lotus, Commerce Lotus, Design Lotus, Digital Craft Lotus, Digital & Social Lotus, Direct Lotus, Effective Lotus, Entertainment Lotus, Film Craft Lotus, Film Lotus, INNOVA Lotus, Lotus Roots, Media Lotus, Mobile Lotus, New Director Lotus, Outdoor Lotus, PR Lotus, Press Lotus, Print & Outdoor Craft Lotus, and Radio & Audio Lotus.
The Final Deadline for entry submission is this
Friday 13 January 2023
. For more information, visit
www.ADFEST.com
ADFEST is a non-profit-making entity that nurtures and supports the creative industry in the Asia Pacific and MENA region. It is one of only 8 regional creative festivals included in the WARC Creative 100 Rankings.